As my readers well know that I am a silver bug the latest price action has been explosive. On Friday, silver touched a 30 year high of $29.36. Observe the latest silver price chart: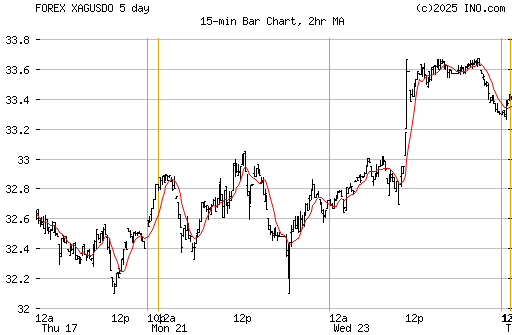 Gold hit a all time nominal high on Friday as well at $1,415.35 per ounce. Despite all the mainstream media pundits screaming that gold is in a bubble the price continues to rocket higher. I even heard Erin Burnett from CNBC say the other day that she was looking at gold coins online. This being the same Burnett that used to laugh at goldbugs. Well keep laughing biaatch.
I would hate to tell people to get into a market this late in the game. Were gold and silver simply like other stocks then I would advise that people buy with one hand and hold the sell button with the other hand. However, the US government and federal reserve are being extremely reckless with their management of the US dollar. They continue to abuse it with $1.4 trillion dollar deficits, $500 billion dollar deficits, multi-trillion dollar money printing a.k.a quantative easing campaings and zero percent interest rates. So long as these conditions continue its not gold and silver that are at risk of collapse in price but the DOLLAR! There is no limit to how high silver and gold can go nominally when the medium of exchange falls apart and loses all value.
The reality is that people should not buy gold and silver to become rich or make money.
These metals have no function other than as monetary instruments
. You buy gold and silver to preserve your purchasing power and protect your wealth from the lunacy of the powers that be. What if the USD does not utterly collapse but instead loses 70% of its value? Would you be happy with that? Why let the assholes that be rob you of your hard earned wealth? This is why you MUST exchange your paper notes for true and historical money, and not the digital fiat bullshit that's been flying around for the past 39 years.
New job update: TTToilet law hero but its a great place to work at. My boss is super cool, smokes cigs with me as do several other staff. On Friday at around 4:00 pm he told us all to get "the fuck out of the office its FRIDAY". He's in his upper 30's and is a ton of fun. The work is personal injury accidents that come in from all over the place. My job is to settle the cases with defense counsel and with the insurance adjusters in the pre litigation phase. Of the 90 files under my management, some of them are $100,000 settlements. Some are small 10k in meds, but make for quick settlements and income to the firm. My bonus structure is pretty cool. Tons of mediations, depos, arbitrations, TSC's, MSC's and discovery work (blah). The clients range from doctors to blue collar workers to military to homeless. One recent case file has a client who served in Iraq twice. So long as I don't get shit canned for one reason or another I plan on staying at this place for a few years. The hours are no more than 50 per week and will be making a good 60-70k with bonus, depending on how many cases I can close. Not too shabby. So I can say from experience that not all small law firms are shitlaw. Good environment, friendly staff and boss, and decent pay with reasonable hours.
Thats all for now.